Have you ever seen a meme like this?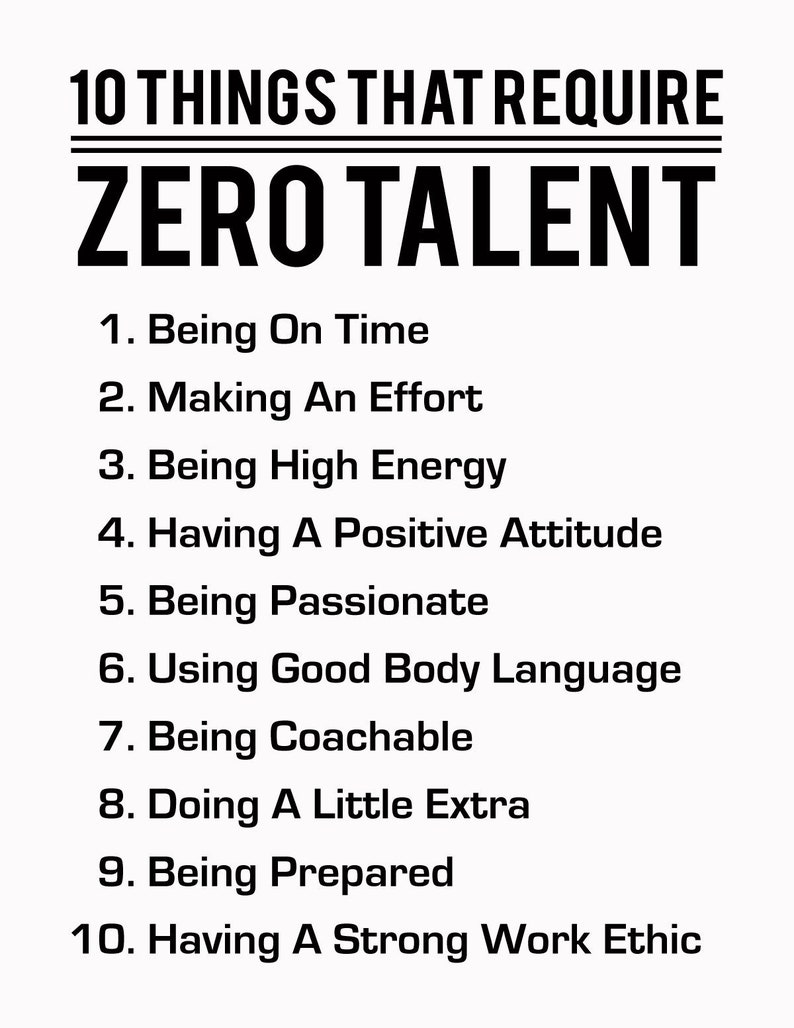 It's absolutely a lie.
Every one of those things requires a great deal of talent.
However, it is not that magical 'talent' that makes you say "I just will never be as good at <<something>> as <<someone famous>>."
The truth is: talent is not natural aptitude or skill. Talent is the result of a great deal of work that appears natural to the outside world.
That's the trick. Talent LOOKS natural, but it isn't.
Everyone of those listed "no talent required" items relies on a great deal of work with a massive support structure. They require preparation, support, and unseen (and often underappreciated) work.
Example: Being on time
Someone had to get your kids out of bed, and logged onto school.
Your commute needs to be reliable.
Your home needs to be stable.
Did all that happen by itself? Magically?
Example: Making an effort or being high energy and having a positive attitude?

Someone had to give you direction, so you know what you're trying to do. Someone had to make you feel like your efforts would matter.
Where's all this work accounted for in the 'no talent required' posters?
The being coachable one enrages me because it absolutely requires a great deal of effort. I posted specifically about how to do it. It ain't easy!
---
Consider some of the most talented folks you know, whether or not you're talking about music, athletics, or software development. How many of them sit around and not actively practice their "talent"?
Stephen King is one of the most talented and prolific writers on the planet. He told us how he does it in his book On Writing: A Memoir of the Craft. It's a wonderful and inspiring book.
Wanna know the secret about how he stayed so prolific? He wrote a lot. He needed a support structure for his writing: a teaching job early in his life, a very patient spouse, and in the end he wrote a lot. That's all it was.
From a distance though, he's looks talented.
---
Talent is the result of a great deal of work, combined with a great support structure. Remember to nurture both.